Classes run throughout the year and we can tailor the delivery to meet your needs . Come and join in the fun .
Ring us today on 0404569380
All our courses on offer comply with the National standards. Sally's Place works closely with each RTO to ensure all policies and procedures are followed for the organisation.
All training delivered and assessed by Sally's Place is delivered by accredited trainers who all undergo continuous training and maintain currency in their own field of expertise.
Our course cover broad industry needs, including:
Business
Certificate III Individual Support
Certificate II Health Support Services
Work readiness
Life skills
Food Safety
Fire Warden Training
First Aid Training
Outcomes
People come into our courses to learn and move closer to their goal and career pathway. Sally's Place is not an RTO (Registered Training Organisation) but we work with Training organisations to be able to help people achieve their goals in a safe learning environment.
It became apparent to us that a lot of the people coming to us had been popped into courses just because they were there and being trained for training's sake with no real thought going into what the person really wanted and no real job outcome at the conclusion of the training.
That is not what we do!! Employment and solid outcomes for each person is our focus, not just getting a job but being able to keep it..
We have worked with many people over the years that found themselves in courses where they did not want to be, doing things they hated. Inevitably they dropped out became more entrenched in the system of helplessness leading to feelings of not being understood or being good enough.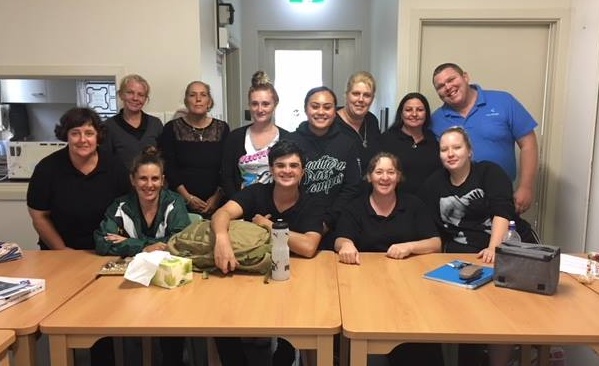 How we came about
11 years ago our Director Sally decided to do something about that and started her own RTO. This ran for 5 years and assisted over 1800 students achieve their goals. In January 2014 when the RTO came up for re accreditation it was decided not to re register but we would be able to help more people if we partnered with other RTO's as we would then be able to deliver a wider variety of Accredited courses to more people.
Sally's Place will look for partnerships with the RTO that hold the Qualification that the student needs. We have over 7 trainers in a wide range of industries. We are very inclusive and holistic in the way in which we train and if students become unwell or their circumstances become unstable then we allow them the time needed to address the barriers they have and to continue when they are ready.
Sally's Place assists everyone there is a no wrong door policy and we offer our services to able bodied persons as well as people with disabilities, long term unemployed, mental illness, Indigenous, disengaged youth, people form non English backgrounds and we work with everyone individually to ensure their needs are met.
Our partners have many other options available on their scope of registration.
But if you see something you really want to do Just give us a call and we can usually source it for you.